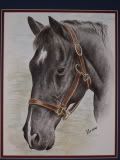 As I mentioned in my profile, I've always loved horses. When I was four, I showed my father my first crude renderings, and his stock response was, "Head's too small."
He maintained this opinion well into my adult years. In spite of his tongue-in-cheek critiques, I knew by the look in his eyes that he was proud of me.
He still is. I don't know about other writers, but my father constantly harangued me from across the continent, asking almost weekly, "So how's the book coming?"
He was one of my first beta readers, and of course he loves my books. Both of them.
I know, I know... a family member's glowing review is not necessarily going to get me on the New York Times Bestseller List, nor is it going to get me an agent. As Miss Snark says, "Good writing trumps all."
However, favourable comments from family members and friends do help a writer find the guts to keep going. Not to give up.
Don't festoon your query letter with silly statements like, "My Mom loves it." Save the glowing reviews from your parents for the dedication page. A heartfelt email or phone call can't hurt, either.